Library Guide (for students and personnel at Mie University)
Library Hours
In Term Time
Mon.-Fri.
8:45-21:45
Sat.-Sun. and national holidays
9:00-18:30
During the spring,
summer, and winter
vacations
Mon.-Fri.
8:45-17:00
Closed days
The University entrance examination day
The end of the year and the New Year(Dec.28th-Jan.4th)
Saturdays, Sundays, and National holidays during the long vacations
The day for system maintenance
Days specified by the Directror of the Library
Homepage, Contact us
Circulation Desk

TEL

059-231-9088 (ext.9088)
E-mail
lib-service@ab.mie-u.ac.jp
Interlibrary Loan

TEL

059-231-9660 (ext.9660)
E-mail
portal@ab.mie-u.ac.jp
Reference Desk

TEL

059-231-9089 (ext.9089)
E-mail
literacy@ab.mie-u.ac.jp
How to Find Books and Journals
1.

OPAC

(Online Public Access Catalog)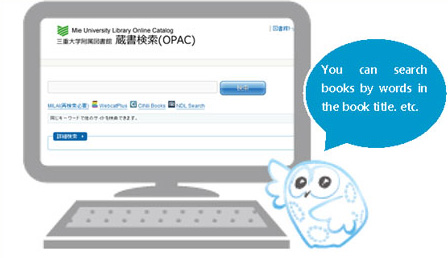 Books and journals in the University Library stored after 1990 are searchable via the OPAC computer or the Internet.
How to view results for books

How to view results for journals

2.Browsing the shelves
Materials placed on the shelves are arranged according to the Nippon Decimal Classification (NDC). Please refer to the Library map and NDC scheme.
3.Ebooks and electronic journals, databases
These are available from the Library website.
Guide
1F Learning Commons Area [mobile

LAN

available]
●

Service Counters (Circulation Desk・Reference Desk)
We will assist you in the issuing of Library cards, borrowing & returning books, etc.

●

Journals
Japanese and foreign journals acquired in and after 1984 are available. Materials dated before 1983 are in compact stacks. The latest journals are in the Current Journals Corner. The journals are shelved in alphabetical order. The collection must remain within the Library.

●

University Bulletins
College and university bulletins and catalogs are sorted alphabetically by university name.

●

Government Publications
These are arranged by issuing ministries and agencies.

●

Audio-Visual Area
Audio-Visual materials are available. To use them, please sign in at the Service Desk.The borrowed audio-visual materials cannot be taken outside the Library.

●

Group Learning Area
You can carry out discussions and group learning here. Whiteboards and projectors are provided.

●

Newspapers
Daily newspapers and back issues are available on the 1st floor.

●

Reduced-size editions of the newspapers
Cutdown versions of back issues of newspapers are available.

●

PC Area(1F)
Authentication by account (user name and password) of the

LAN

for students is required.

●

Photocopiers
Certain photocopies of the materials in the Library are allowed under the copyright law. Please fill out the Application Form for Photocopies before you make any copies.
Library Map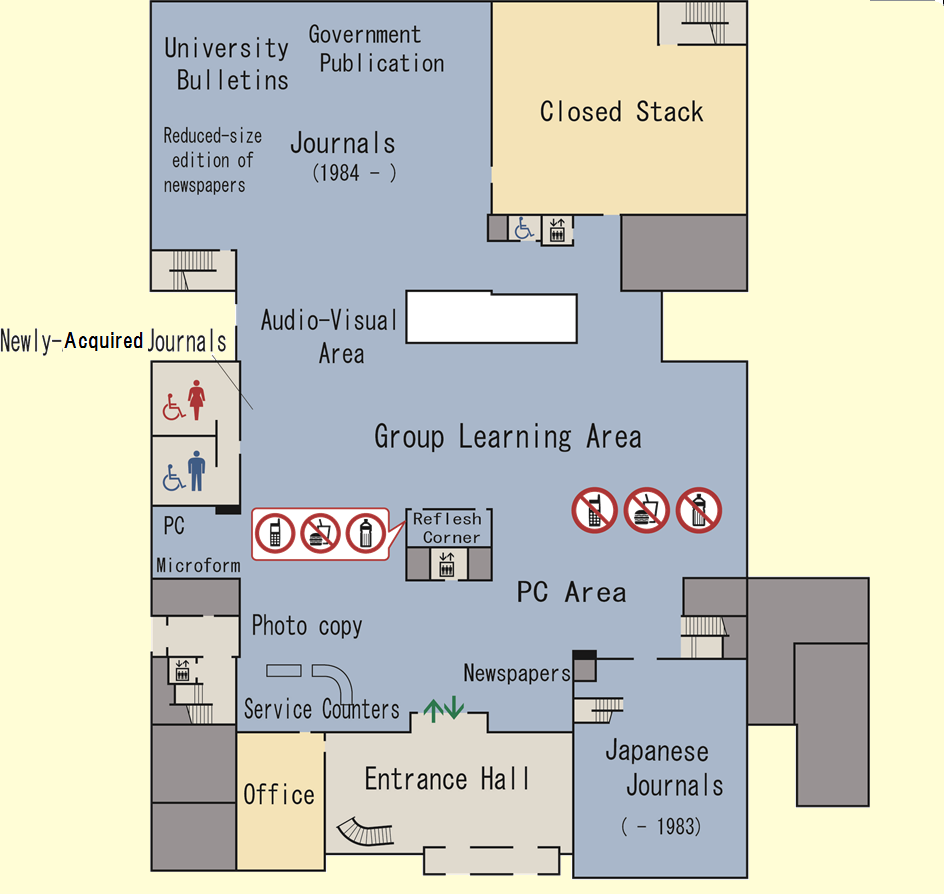 2F Quiet Area [mobile

LAN

available]
●

Open Access Shelves [Available for Checkout]
Materials shelved on the 2nd floor can be accessed freely.

●

Newly Acquired Books [Available for Checkout (exclude reference books)]
New books are separately displayed before being shelved.

●

Reference Books
Collection of reference books including dictionaries, encyclopedias, maps, and more. Reference books can only be used in the Library.

●

Exhibition Books [Available for Checkout]
Books written by Mie University Academic Staff, and published by the Mie University Press.

●

Disaster Prevention Material Area [Available for Checkout]
Collections of materials related to disaster and disaster prevention.

●

Environment Materials Area [Available for Checkout]
Collections of materials related pollution and environmental engineering.

●

Private Study Rooms
(From 9:00 to the library closing time)
There are 10 rooms. To use one, please ask a staff member at the Service Desk.

●

PC Area(2F)
Authentication by account (user name and password) of

LAN

for students is required.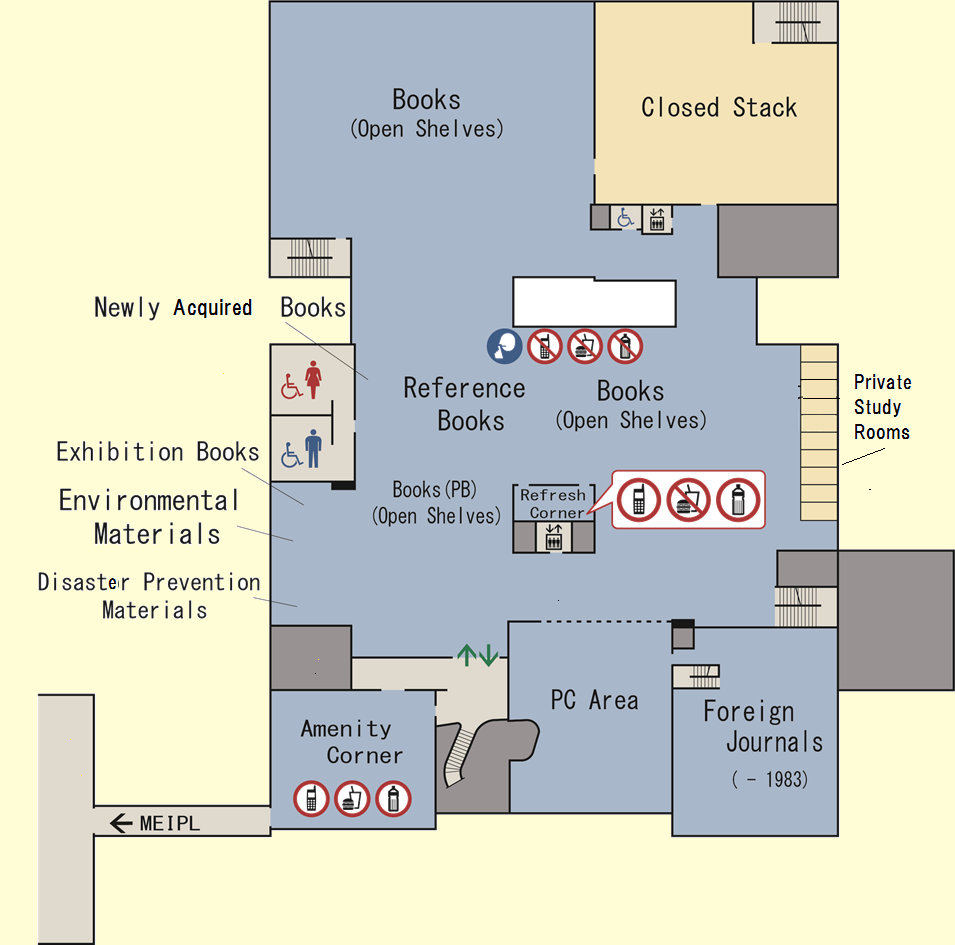 3F Silent Area
●

Reading Floor
About 230 desks are available on the 3rd floor for reading and writing reports. Please do not use PCs here and please keep quiet.
[Students only ; not for the general public]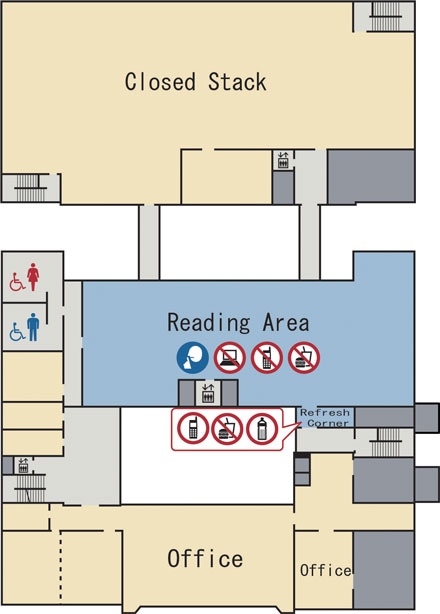 The Nippon Decimal Classification
| | | | |
| --- | --- | --- | --- |
| 000 | General works | 500 | Technology & Engineering |
| 100 | Philosophy | 600 | Industry and commerce |
| 200 | History | 700 | The arts & Fine arts |
| 300 | Social sciences | 800 | Language |
| 400 | Natural sciences | 900 | Literature |
Services
Service Desk
Circulation Desk

9:00-Closing time

Reference Desk

Mon.-Fri.


9:00-17:00

Web Services




Library Website

This mark means that you can utilize part or all of these services online.
Mie University Library Card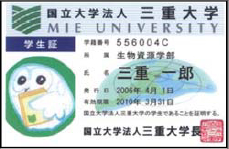 A Student card is needed to use the Library, or borrow books. The card may not be lent to anyone else. Staff access to the Library is via their staff ID, so please let us know if you have your staff ID on your first visit.
Access to the Library
Scan your card at the entrance gate, which will open automatically. If you do not have your card, please talk to a staff member at the Counter.
The exit gate will open automatically. It has a monitoring system to prevent unauthorized removal of books.
Borrowing and Returning Books
Borrowing books
Please take your selected books to a self-service unit or the Circulation Desk to check them out. You should have your Library card ready.
Limits


Books on Open Shelves
Books in Closed stack
Undergraduates

10 books, 14 days (trial)

Graduate students
20 books, 14 days (trial)
Academic staff
10 books, 14 days
30 books, 180 days
Staff
5 books, 14 days

The borrowing period is extended during the Spring, Summer and Winter vacation. (This applied to students only.) It will be announced on the bulletin boards. If you want to borrow a book for a long time for writing a paper or for practical training, please contact a staff member at the Circulation Desk.
Returning books
Please return your books to the Circulation Desk or use the Self-Service Unit. If the Library is closed, please them in the Book Return box next to the entrance. (Return processing will take place when the Library re-open.) If you do not return items by the due date, your borrowing rights will be suspended for the same number of days as they have been overdue.
Renewing your books
If you want to extend the period of borrowing, please bring the books and your Library Card to the Circulation Desk or use the Self-Service Unit. You can renew a book up to 3 times (14 days per time) if no other user has reserved it and if it is not overdue.
Reservations
You can make a reservation for a book you wish to borrow, if it is not available at the time. We will let you know as soon as the book has been returned.
Application for Materials in the Library stacks
(Mon.-Fri. 9:00-16:50)
You are able to request books from closed stacks.(The closed stacks are available from 9 am to 15 minutes before the Library closes , adn can by accessed by faculty members, university staff, postgraduate students, and those who have attended the required short course on how to use them.)
Application to use the Audio-Visual Materials
(From 9:00 to the library closing time)
You can use Library's audio-visual materials.
Application to use a Private Study Rooms
(From 9:00 to the Library closing time)
We have 10 Private study rooms for use by graduate students and undergraduate students in their final year.
Book Loans
You are able to borrow books from other university libraries, public libraries and the National Diet Library. A postage fee is required.
Photocopies
It is possible to obtain photocopies of materials held by libraries other than Mie University. Copying costs and postage are required.
Visiting Other Libraries
A letter of introduction is required to access other university libraries. (Please obtain the letter of introduction form from our website.)
National Diet Library Digital Collection
(Mon.-Fri. 9:00-17:00)
You can browse and copy materials digitized by the National Diet Library.
Reference Services
Reference librarians help people to find information on a topic, search catalogs, databases, the Web, indexes, and more. If you need help, please ask at the Reference Desk. You can also ask by e-mail. (literacy@ab.mie-u.ac.jp)
Orientation
Please visit the Library Website for more information.
New Student Orientation (Library tours)
Closed Stack User Orientation (for undergraduate students)
Database Retrieval Instructions, etc.
Purchase Requests
You can request the purchase of a book that is not in the Library.
Notices


Please do not eat, drink or use mobile phones except in specifically designated places.
Please take appropriate care of the materials.
Please return the materials to their original location.
Please take your valuables with you all the time.
Place do not speak loudly.